Ko Khai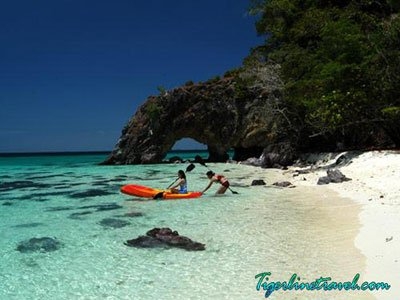 Ko Khai is a small island in the middle of the two major islands, Ko Tarutao and Ko Adang-Rawi. This beautiful island is very unique with a large stone archway made by nature. The sandy beach here has the co lour of eggshell, and it is also the turtle's egg-laying site; there are reasons why the island is call Ko Khai, which means "egg island".

However, it is prohibited to stay overnight on this island, and there is no freshwater here.

Very near Ko Khai is another island named Ko Klang. This island is comparatively larger and is full of wild forests, but there are no beaches at all.

Location: between Ko Tarutao and Ko Adang-Rawi, around 15 kilometers away from Ko Tarutao.

How to get there: If you come by your own, it might not be easy to visit Ko Kai because the passenger boat will not stop at this island. So travelers often come here by buying the touring packages, or by hiring the whole motor boat from Pakbara Pier. Anyway, now you can come to Ko Khai easier, by getting a Speedboat Day Tour Program # C, at Tarutao Cabana Resort, on Ko Lipe.